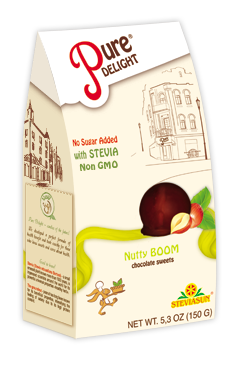 We have developed a perfect formula of health benefits and taste specifically for those who love sweets and care
about health.
Peanuts - peanuts have long been known for their beneficial properties, increasing the feeling of fullness due to the high protein content.
Ingredients: nut mix (crushed peanuts and hazelnuts), sweetener (fructose, Stevia extract (Reb A), STEVIASUN dark chocolate (cocoa paste, sweetener (fructose syrup, Stevia extract (Reb A), cocoa butter, soy lecithin, vanilla), natural honey, citric acid.
The energy value of 100 g: 2227 kJ / 532 kcal;
Net weight: 5,3 OZ (150 G)