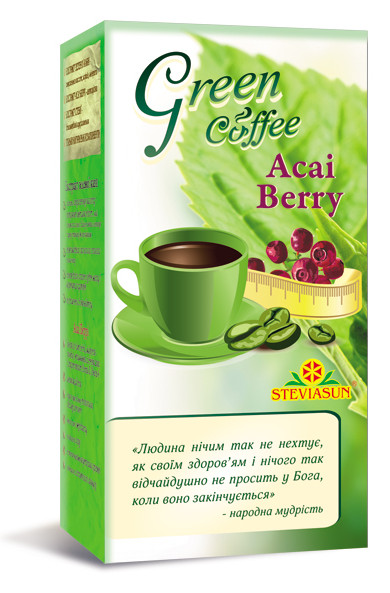 Dietary TM "STEVIASUN" Layfforte
Ingredients: 100% natural coffee soluble, maltitol, 100% organic coffee, 100% green organic coffee powder, extract natural green coffee extract, Acai Berry, stevia extract "STEVIASUN" Ginger dry ground.
How to use: one sachet pour 200 ml of hot water (not boiling water). Eat twice a day, certainly for 15-30 minutes before eating. Optionally add the milk.
The period of use: no restrictions applied in the diets of a dietary food, in order to enrich the diet with vitamins, trace elements, and create optimal conditions for the acceleration of metabolism
Precautions: individual sensitivity to the components that are part of the product, pregnancy, lactation, children under 14 years old.
Food and energy value per 100 g: 0.72 kcal.
Product: 30 sachets of 3 g
Shelf life: 12 months from date of manufacture.